50 Ugly Tattoos That People Should Live With Forever
There are some good tattoos, some bad ones, and some tattoos that make you think: "But what could have gone through his head?" These are the tattoos we're talking about here. These depressing tattoos are some of the most horrific ones ever seen.
There are some good tattoos, some bad ones, and some tattoos that make you think: "But what could have gone through his head?" These are the tattoos we're talking about here. These depressing tattoos are some of the most horrific ones ever seen. You might think that some of them are fakes to joke about, but unfortunately, they are all true. We're lucky we don't have to live with these tattoos forever; we can just laugh about it. Hopefully, they, too, will learn to share the laughter with us.
Oh My God
We don't even know if we should categorize it as a failed tattoo or not. After all, he's kind of cool. We are sure that many people would feel uncomfortable when they see it.
Picture yourself sitting behind him on a flight or train ride. We're betting you wouldn't feel comfortable. You are going to feel like someone is glaring at you the whole time you are flying.
For the Love of Turkey Sandwiches
A Chinese tattoo is pretty cool. The fonts are nice, and the celebrities have quite a few profound quotes tattooed in this language. This guy also wanted a Chinese tattoo, but of course, without speaking the language. He ended up with a tattoo that says "turkey sandwich."
He certainly thought that the tattoo artist would choose a deep and personalized quote for him, too … It is not successful, and we guess he did it on his vacations in Asia. This is a little too far to go to complain.
The Joys Of Spelling & Grammar
We would think it's a joke, but we figure they screwed up the tattoo involuntarily. They mistakenly named the band Bon Jovi, which mysteriously became Job Bovi.
Also, they have a few problems with English grammar. To explain it simply, the phrase in English that the band sings is: "it's my life." And this is my life. In English, we contract the verb to be "to be," here "is" conjugated in the third person, in s with an apostrophe. By writing the apostrophe "s" and is, it is as if they had written: "c'est est ma vie." We don't even talk to you about writing.
Too Realistic
Anything else to say? It can't be more realistic. This fierce tiger is so scary that it could give you a heart attack. If one really wants to criticize, it has a bit of a long face, but only if one is fussy.
We just want to know where this man got such a horrible tattoo? We would like to find the artist in charge.
The Personalized Regret
One feature of unsuccessful tattoos is that they are the result of an accident most of the time. For instance, there may be spelling mistakes like the ones we showed you earlier on this list. This is a totally different issue. The idea of the tattoo is ridiculous but well executed. However, that makes it even more stupid.
It is clearly visible that he is in trouble, and he has two options in front of him: live with this absurd tattoo for the rest of his life or pay for an expensive treatment to remove it.
As accurate as can be
Marilyn Monroe was a well-known actress but, above all, a prevalent sex symbol of the 50s and early 60s. She has become an icon all over the world.
This lady wanted to commemorate her with a tattoo on her arm. The thing is, the tattoo artist obviously didn't know Marilyn or intended to do his best.
At least there is a Likeness of Resemblance.
You were shown in the previous photo a tattoo that didn't look like Marilyn Monroe at all. At least this one deserves a little more respect given its vague resemblance to the famous actress?
It looks a bit like a horror movie version of the actress who might come home to visit us at night during our nightmares. This tattoo artist is very, very far from it.
Snakeskin
This tattoo isn't that bad on its own, but it's just plain terrifying. It is not known why this young woman wanted to look like a snake. There is a reason for people to run away.
Instead of a permanent tattoo, she should have opted for a temporary one for the rest of her life.
This Is Supposed To Be Stars
If someone hadn't told you what this tattoo was supposed to represent, we're sure you would never have guessed it yourself. It looks more like dirty freeze marks than anything else. Although she wanted freckles, this is not the right place to tattoo them.
She walked into a tattoo parlor and asked for stars. She desired stars on her chest. She ends up with these ugly dots that don't really look like stars.
Do Not Lose Hoop
It is known that quote tattoos have become very famous. People choose quotes that they feel are deep and in tune with their personalities. There is really everything: from the most generic to the most personal. The one you can see could not be more unique.
The tattoo artist managed to make several spelling mistakes, but on top of that, instead of writing "don't lose hope" in English, he foolishly wrote: "don't lose hoop." He confused the words "hope" and "hoop."
Eminem Rapper and M&Ms Are Two Different Things
Everyone loves M&Ms. Multicolored little candies with a peanut in the center. Meanwhile, Eminem is a rapper, so there's not much in common between the two, except for a vague consonance in the names. Someone had the bright idea to put the two together to get a tattoo.
We have to recognize that the face looks a lot like Eminem's, even if it's blue. This is an odd concept that is not going to go down well with everyone. Some people will love it, some will laugh at it, and some will totally hate it.
How To Scare Kids
In comparison to the other tattoos on this list, we have to acknowledge that this is a well-done tattoo. Not all people will love it. Even so, there's plenty to scare the children.
Also, it only works if he can shave his head well. We are wondering what will happen if he goes bald. Your tattoo will not be the same as it was before.
How to Get Lost Easily
Also, it only works if he can shave his head well. We are wondering what will happen if he goes bald. Your tattoo will not be the same as it was before.
This tattoo artist needs to work more on his technique and urgently review his geography. The cardinal points are not in focus.
The perfect way to hide your baldness
If you go bald and it makes you uncomfortable, even though many people find bald sexy, you can get a tattoo on your head. Getting a tattoo on your head is very daring. This man adores turtles and therefore decided to get a turtle tattoo.
People will think it's a hairstyle or something. They will be surprised when they realize that it is indeed a real tattoo.
How to tell everyone
This woman got the word "vegan" tattooed on her face. That way, she won't have to explain to people that she is a vegan all the time. We can understand that it is complicated to tell people all the time that we are vegan and to answer all their questions. But to tattoo the word on the face, there is a step to cross.
We don't know if her plan will work or not, but we think it's just the questions that will change. From now on, it will be: "But why did you think that getting a face tattoo was a good idea"?
Look Closer
You may have a hard time seeing this man's tattoo. No, we're not talking about the tattoos on her neck and arms. Did you find it? Yes, they are not real glasses. He had glasses tattooed on his face. We don't know what to say.
Probably he wanted to look smarter. How this man could think that getting a tattoo of a pair of glasses forever was a good idea is hard to understand.
She Loves Skittles
This pretty young lady placed skittles in the plural by adding a z instead of an s. That's not the worst part. The weirdest thing is getting a tattoo of a pack of candy on your chest.
The weirdest thing is getting a tattoo of a pack of candy on your chest. Spelling mistakes don't seem to bother him that much. Anyway, with all that's going on, the z is not the first thing that jumps out…
But why?
If you encounter someone with an underarm tattoo, know that you need extreme pain resistance to endure getting a tattoo there. We don't really understand the idea. Tattooing in a place you don't want people to see is weird. There is a risk of smelling bad and how to show it with discretion.
We prefer not to think about the message she is trying to pass with this tattoo. Maybe it smells like an onion? We would rather not know, better to avoid researching to find out more.
Pikachu Is Angry
If you feel uncomfortable looking at this Pikachu tattoo, know that you are not alone. Pikachu is apparently going through a difficult time. Maybe it's puberty. Now, this guy will have this Pikachu on his thigh with him forever.
If they see the tattoo from far away, people have a chance to think that the tattoo is not bad. But up close, that angry face is really uncomfortable.
The True Spider-Man
Should you not be easily frightened, we suggest that you meet this man in a dark alley at night.
This man loves to startle people. That's the only explanation that makes any sense at all for having a spider tattooed on his face. Or it's an alien creature straight from another world. It's so scary that it should be banned from being broadcast on the Internet.
…….. and with love
It seems that this young man has decided to prove his love to his girlfriend. There are several ways to do it, but he went to a tattoo parlor with a picture of his sweetheart.
Too bad the artist didn't quite manage to capture her eyes, her beautiful smile, and everything, in fact. At least the intention was romantic, but the performance was pathetic. He is really into it in every sense of the word now.
Almost Famous
This young woman needed a tattoo to let the world know that she was finally famous. Unfortunately, she became famous for the wrong reasons.
The only slight problem is that the word is finally spelled with two l's and not just one in English. She finally got what she wanted: she is famous for her messed-up tattoo.
What is this?
Naz Mila is well known on social media, with over 1 million followers on Instagram. She, therefore, wished to get a tattoo of a profound phrase to mark the moment. She intended to write: "Only God can judge my errors and my truths."
The tattoo was a complete failure. We might accept it if he misspelled something, but here he tattooed something completely different on his body. The tattoo artist wrote in English: "I can judge one God with all my mistakes."
Ariana Grande at the Barbecue
One of the most famous singers in the world, Ariana Grande, has released many albums and singles since the early days of her career. One of her songs is called "7 rings". She tried to celebrate the success of this song with a tattoo on her hand. She wanted a tattoo in Japanese that said 7 rings.
However, her Japanese fans promptly noticed a mistake in her tattoo. As a matter of fact, this one was referring to a Japanese barbecue. Since the singer is the head of a fortune of more than 160 million dollars, she has the resources to have this corrected.
A Tattoo Of Her Ex
If someone asks you to make a top 10 list of the most heartbreaking things, we suggest you put "getting a selfie of your ex-girlfriend" in the list. This is an everlasting reminder of the person who broke your heart. Taking off a tattoo costs a lot of money and is very hurtful.
One feels bad for this poor bastard, and hopes that she will soon make another design of flower or dragon over it.
It's Similar
If any friend mentions to you that they will get a tattoo of their sweetheart's face, be nice and show them this awful loser. I find it hard to understand how someone could decide to tattoo a face without even thinking it could end badly.
The tattoo is too black, but even without it, you can hardly recognize the picture. We also wonder what happened to his teeth.
A Big Wisdom
If you Google the meaning of irony, you might end up with this tattoo in the first few search results.
This young woman wanted to share her vision of perfection, and we agree with her. She was looking for a tattoo that said, "no one is perfect." She ended up with two major spelling mistakes and a "not body perfect" kind of thing.
Keep Your Arm Still so that I Can Read
The original idea is not bad. The quote in English is pretty sweet and says: "you will be the anchor that keeps me on earth, and I will be the angel that keeps your heart in the clouds." The design and artistry are awful, though, and it takes so long to read. People might be lost in front of this design.
Fonts are blended, and it's challenging to read. We imagine that she chose this tattoo for her darling. That must have touched him once he managed to decode it.
A Stunning Resemblance
Do you also love the 2002 cartoon movie Lilo & Stitch? This young woman loved him so much that she wanted to pay tribute to him. We guess she's a big Disney fan. She got a failed Stitch tattoo, but moreover, the tattoo artist made a mistake. He wrote the wrong name Lilo and mistakenly wrote Leo.
She probably should have stopped when she saw how badly the tattoo was done. Perhaps Disney will endorse this design for the next movies of the saga.
The Prom Queen
This young woman was named queen at her high school prom. She, therefore, decided to mark this event with a tattoo.
The problem is that promo in English is "Prom" without them. Prome is a town in Burma. Maybe she will be queen one day with a real crown, who knows?
A Frightened Wolf?
As originally designed, this tattoo had all the ingredients to be super cool, but the execution made it more of a joke than anything else. We understand that the wolf is supposed to howl, but it just looks scared, and besides, it lacks teeth.
The only plausible explanation is that we face an ancient wolf who forgot to put on his dentures this morning.
No Regrets.
We feel a little bad for this couple because the photo only shows the word regret, which makes it very funny.
Tattoos that say "no regrets" are in high demand. We wonder why she got it tattooed there anyway.
It looks more like a 70-year-old man
Ah, this tattoo was so close to being gorgeous, and it's so far from it. It was supposed to be a tattoo of a newborn baby, but the artist didn't live up to it.
Ah, this tattoo was so close to being gorgeous, and it's so far from it. It was supposed to be a tattoo of a newborn baby, but the artist didn't live up to it.
But what is this monster?
This newly discovered creature has two ears like a dog and seems to give people the finger. It also has two pyramids on its tail. She is terrifying.
It might be wrong to put it on the list of failures since it is probably a species from another planet. Here's where he asked a five-year-old to give him a tattoo.
Freddie Turns Over In His Grave
This is an ugly tattoo. The singer of Queen is so unpleasant that you can't look at him for too long. We are big fans of Freddie Mercury, so we do not forgive this horror.
We can only imagine that someone paid for this tattoo just to give people nightmares.
Really?
We thought it was a joke, but unfortunately, it wasn't. It's amazing that you don't check your spelling before you tattoo.
Your English teacher must have told you repeatedly; there is an "s" in the third person singular. He meant to say in English that everything will get better with time, but the spelling mistake spoils everything.
One Must Suffer To Be Beautiful
All boys dream of having a perfect muscular body with the chocolate bar to show off at the beach, only you have to suffer to get them. It can only be done with years of hard work and a balanced diet. Some people cheat by taking very hazardous substances. At least this man didn't take steroids to get there.
So he went to the tattoo parlor and asked his tattoo artist to give him some abs instead. It is definitely more expensive than a gym membership. We admire the creativity, but it's still hideous.
He Must Have Some Regrets
This person desired a tattoo that would proudly say that she had no regrets in life. But now she must have some because the tattoo artist misspelled the word regret. We must be so cautious; there is no room for error with permanent tattoos.
It was a sad accident, and it just looks horrible. The irony is that every time she looks at her arm, she'll have regrets for the rest of her life.
Only No
We all know that troll dolls are trendy, especially because of their hair, but this tattoo is still bizarre.
This man thought that the hair on his arm looked like dolls' hair, and he decided to celebrate his crucial discovery with a tattoo. It doesn't lack creativity or madness.
When You Pay One Euro For Your Tattoo
This man had only one euro on his bank account and decided to get a tattoo. This is where he bought the equipment and got the tattoo himself. Obviously, this artist has done the absolute minimum for this Star Wars fan.
Leave the tattoos to the professionals and don't invest in equipment, even if it's a big promotion.
No, Don't Ever Give Up.
We've already proven to you that grammar can ruin a tattoo forever. This fellow wanted a deep quote on his arm and ended up with something that will make him look like a fool all the time.
He has mixed up his grammar, and the sentence could literally be translated as: "never don't give up." This is already horrible, but what's worse is that with this double negation, the English could understand "Give up all the time." This is crazy.
A witch?
Only instead of writing "who," the tattoo artist wrote "which," and he made a mistake too. He wanted to write on his back: "What doesn't kill me makes me stronger." as a result, it is written: "this witch, who does not kill, makes me stronger."
Or maybe it's a statement to his ex-wife? Maybe he just got divorced.
A Unique Idea On Paper
This is a fun idea to have in a conversation but not to achieve. Get tattooed suspenders is not as much fun when you have to go to the pool or the beach.
In any case, he went to the end of his idea with his horrible colors. He has even gone as far as tattooing the colors on his fingers to look like the picture. We respect his stupidity… uh, his determination.
Oh no!
There is confusion between the second person verb to be: "You're" and the possessive adjective: "Your." This is one of the most common mistakes in English grammar. The teachers are especially concerned about this during English classes. Having such a big mistake on a tattoo is terrible.
Oh no! Instead of having "know where you come from," his tattoo says, "know where your come from." It looks absolutely awful, and it's there forever. It's the kind of mistake that reminds people of the importance of grammar…
One More Spelling Mistake
This person wanted a tattoo that said, "A little piece of heaven. The problem? They have confused the word "piece" with the word "peace." As a result, she finds herself with a "little peace of mind" on her arm.
Will she succeed in living in peace forever with this mistake? That's the whole point.
It's Too Big
This young man dreamed of a beautiful tattoo on his chest, but again a small mistake spoiled everything. The Tattoo Artist has confused the adverb "too," which means too much with the preposition "to," which can mean to, from, or for depending on the context.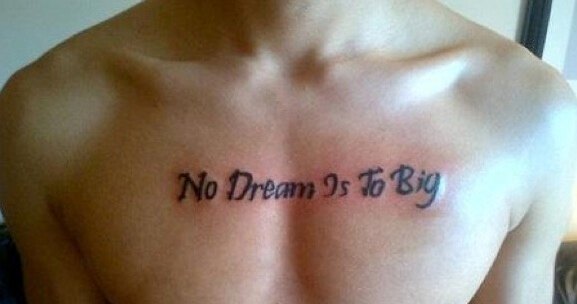 Thus, instead of saying, "There are no dreams too big," we can read: "There are no dreams for big." Luckily, there's only one "o" to be added quietly to make it all right.
A Great Athlete
It is a giant advertising billboard for a sports equipment manufacturer. Plus, he probably didn't get a penny for it. He figured the famous brand would appreciate it and pay him, but not at all.
After all, the tattoo is horrible, and we feel bad for this poor guy who must bitterly regret his decision.
We're Sure His Mom Enjoyed It
There are two possible explanations for this tattoo. He was either interested in showing his love to the energetic drink Monster and his famous M, or he was interested in showing his love to his beloved mom. If he just wanted to show his love, why use the M of Monster?
It's weird because it really doesn't make sense. Maybe it was a Mother's Day surprise. If so, we're curious to know how she responded. What do you think?
Finally, The Good One
Only the lucky ones find true love right away. This guy is definitely not one of them. He finally found the right one on the fifth try. One hopes in any case that it is the good one and that it will not leave it as the four previous ones did.
He pointed out this tattoo to his second girlfriend, and she left after seeing Anna's name on his arm.
A Real Angel
Spelling mistakes are made so quickly. A short moment of carelessness and disaster happens. This is where the tattoo artist misspelled the word angel.
So how do you feel about this disaster? We don't know what to say. How can the word angel become aingel?
💖 If you have enjoyed it, you must share!